Paint Booths
All of our paint booths offer a combination of high quality and great value with special attention to customer service.
Paint Booth Maintenance Services, Inc. has been in the paint booth business since 1996, over 20 years now. We are an authorized distributor of RTT Engineered Solutions paint booths.
Our large paint booth selection includes crossdraft, semi-modified downdraft, side downdraft, full downdraft booths, prep stations and paint mixing rooms. All our booths come with full manufacture warranty. Our booths provide a safe, clean environment that will comply with all OSHA & NFPA standards.
Choosing the right booth is essential to your shop productivity and a high quality finished product.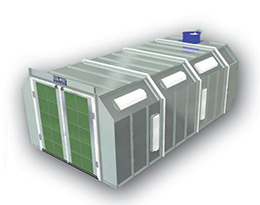 Crossdraft Paint Booth
In a Crossdraft paint booth the fresh air is brought in the booth through intake filters located in the doors at the front of the booth. The clean filtered air then travels horizontally to rear exhaust filters. A crossdraft booth is economical to purchase, operate and maintain. Download Crossdraft PDF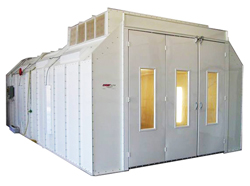 Semi/Modified Downdraft Booth
A Semi/Modified Downdraft paint booth allows filtered air to enter the booth through the rear ceiling. The air moves vertically and horizontally and exits through exhaust filters in the rear wall of the booth. Download Semi/Modified Downdraft PDF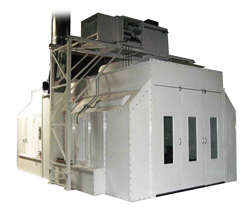 Side Downdraft Booths
Side Downdraft spray paint booths allow for airflow to enter the booth from a pre-filtered intake plenum in the ceiling and down through a 2nd set of high quality diffusion media filters. The air flows vertically and exits the exhaust plenum in either the back wall or the lower interior sides of the booth. This provides efficient overspray control and a healthier, cleaner work environment without an expensive downdraft exhaust pit. Download Side Downdraft PDF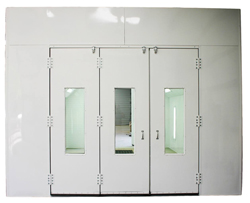 Full Downdraft Booth
The Full Downdraft paint booth provides vertical down draft airflow. The air enters the booth from a pre-filtered intake plenum in the ceiling and down through a 2nd set of high quality diffusion media filters. The filtered air moves tightly around the vehicle and exits the booth through the exhaust filters in the floor. The exhaust filters in the downdraft booth are in a pit below the ground or in an above ground basement that sits on the existing floor. These paint booths provides the cleanest intake air, most efficient overspray control and the highest quality finished product. Download Full Downdraft PDF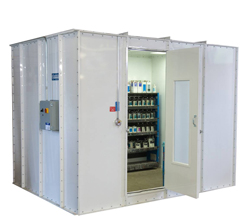 Paint Mixing Room
Providing a safe and controlled environment for mixing paint was our chief objective when designing our paint mixing rooms. Built with durable construction that maximizes airflow distribution, your employees are protected from harmful vapors and toxins. Airflow is directed via the filtered air intake and exits through the exhaust stack. Air moves in a downward direction in a continuous flow providing optimal ventilation for personnel. Paint mixing rooms also feature a lighting fixture for maximum visibility and efficiency. Download Paint Mixing Room PDF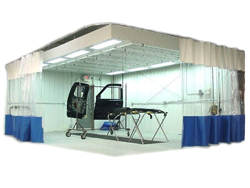 Prep Station
For prepping and painting vehicles, the EZ Limited Finishing Prep Station optimizes space and efficiency while providing a clean, safe and effective work environment. Our prep station uses a pressurization fan to bring in fresh air from upper levels into the prep station. The air is filtered through an exhaust plenum located at the back of the workstation and ultimately expelled outside through an exhaust fan. This design allows for easy addition of a heated air makeup unit. Download Prep Station PDF
*All models of paint booths have the option to be pressurized and or heated – A cure cycle with or without recirculation and powder coated white.
A Previously owned paint booth can be an excellent option with a greatly reduced price tag. We regularly acquire previously owned booths that are in good working condition. Our inventory is constantly changing so check with us to find out what is in our inventory.
Remember that our paint booth experts can help you answer any questions and provide you with your best options at our best price.
Contact us today to get started. Call (904) 514-8332.