Paint Booth Maintenance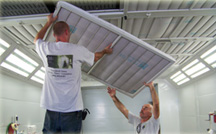 Paint Booth Maintenance and Services. Take good care of your paint booth and it will take good care of you in the form of fewer headaches and more profit. Busy managers rarely have the time, manpower, or expertise to properly maintain their paint booths. Our name says it all. Paint Booth Maintenance Service Inc. is headquartered in Jacksonville, Florida and offers local repair and maintenance to customers in the Northeast and Central Florida and South Georgia areas. Our experienced service professionals repair all makes and models of paint booths. Give us a call today. Give us a call today.
Paint Booth Maintenance Local Services Include:
Filter Replacement
Air Flow Check
Pressure Wash
Pit Cleaning
Door Seals
Belt Replacement
Booth Balancing
Sand & Paint
Exhaust Fan/Plenum Cleaning
Bulb & Ballast Replacement
Air Make Up – Burner Cleaning
Booth Coating
We also offer a regularly scheduled maintenance service to our customers, which includes replacing exhaust filters, vacuuming the booth, cleaning the light fixture glass, checking belts and checking for proper air flow. In addition we will advise our customers when it is time to change pre-filters and ceiling filters and replace them as needed. This type of regular maintenance is the key to paint booth efficiency and a superior finished product.
Check Out Our $95.00 Per booth/Per visit Service Maintenance
This service is  convenient and low cost solution for customers. We can provide booth service upon customer's request. We offer  monthly or bi-weekly service with no contract requirements.
Booth Service Includes
Vacuum and Clean Paint Booth Interior
Check Belts for adjustments quarterly
Check air flow/leaks
Change Exhaust Filters – 22 Gram (filters included in price)
Clean Light Fixture Glass Exterior only as needed
Check other area's of concern
We provide backup documentation required by EPA.
Contact us today to get started. Call (904) 514-8332.